"One Russian blogger has paid a visit to the modern Russian nuclear plant. Normally it is forbidden to take photos there, but they have made an exception for him...This power plant is situated near Smolensk city. Its power generation potential is 3 Megawatt and it was build for 8 years, from 1982 to 1990. There were planned to be four nuclear reactors, but because of the panic after the Chernobyl accident the forth block has not been completed, so there are three of them for now."






Here's a view of the core in the Chernobyl plant: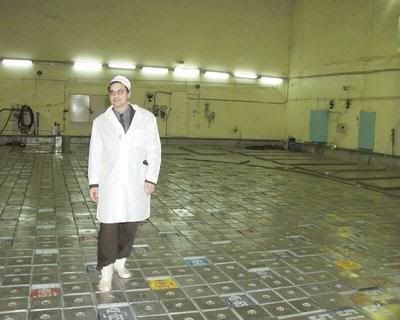 More of the recent photographs can be found at English Russia, here.




Also...





The Russian Woodpecker was a notorious Soviet signal that could be heard on the shortwave radio bands worldwide between July 1976 and December 1989. It sounded like a sharp, repetitive tapping noise, at 10 Hz, giving rise to the "Woodpecker" name. The random frequency hops disrupted legitimate broadcast, amateur radio, and utility transmissions and resulted in thousands of complaints by many countries worldwide.
The signal was long believed to be that of an over-the-horizon radar (OTH) system. This theory was publicly confirmed after the fall of the Soviet Union, and is now known to be the Duga-3[1] system, part of the Soviet ABM early-warning network. This was something that NATO military intelligence was well aware of all along, having photographed it and giving it the NATO reporting name Steel Yard.
More images here.